Common Sleep Positions and their Corresponding Personalities
Contrary to what people believe in, sleep positions are not really random. This is because they actually tell something about people's personalities. In fact, sleep expert Professor Chris Idzikowskia from the Sleep Assessment and Advisory Service found out that there is a connection between sleep positions and people's personalities. Apart from that, there are also studies which say that even the kind of day the sleepers had as well as their worries can be determined through their sleep positions.
But what are these common sleep positions and what certain personalities do they reflect? Read on and learn.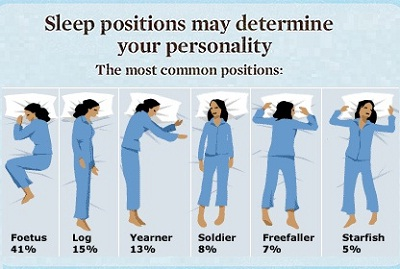 1) Fetal Position
It is said that someone who curls up on his side like a fetus is seeking for comfort. This is because, according to sleep experts, the higher your leg and the lower your head is when you sleep, the more comfortable you feel. Meaning to say, a sleeper in this position desires to return to his comfort zone and get rid off the stress he had for the entire day. Usually, a sleeper who is fond of fetal position aims for more relaxation in sleep because he is a worrier by nature and he is usually preoccupied with a lot of things. Good thing this sleep position does not fail to give that as a sleeper in this position may wake up feeling really refreshed and absolutely ready for another day.
2) Log
A sleeper with his body (including his head, neck, and even his arms) stretched in a straight line is assuming the log position. Apparently, this position mirrors the sleeper's way of thinking—rigid. It is said that a sleeper in this position is stubborn. He likes to do things in his own way. He also has the tendency to be bossy because he wants his own ways and set of rules to be followed. According to sleep experts, a sleeper in this position may make things hard for himself. But if he would just allow himself to stretch everyday, he will surely be more relaxed and noticeable improvement both in the mind and the body will surely result.
3) Yearner
The yearner position is characterized by arms outstretched forward while the body lies on the side. Many actually associate these arms being outstretched to chasing dreams. However, it is said that it can also mean that the sleeper is being chased. The individual who sleeps in this position desires more things from life. And sure, he is willing to claim these great things in his both hands when they come. The individual is also prepared to face more new and exciting things that are about to come in his life. In result, the yearner wakes up with enthusiasm and optimism for a new day. He feels refreshed and ready to face the new challenges of life.
4) Freefaller
For adults, it is considered as the least comfortable sleep position. This is because the freefaller position actually involves a sleeper who lies on his stomach with his arms forming right angles and hands grasping the pillow. According to experts, a sleeper in this position represents the act of clinging to life. Also, a freefaller has this awareness that he is not in control of so many things in his life. In result, he wakes up thinking that he still haven't done certain things from the previous day and the thought of all these actually leaves him anxious.
Indeed, it is amazing that these common sleep positions actually have to do with personalities. How about you? What is your usual position when you sleep?
CATEGORIES